!לשנה טובה תיכתבו ותחתמו



Sephardic Torah Center invites the community to join us for a meaningful
Yamim Nora'im
, as we pray for a new year of
salvation and
blessing. We are privileged to have
Hazzan
Harav Yosef Moradi from Israel lead the
Tefilot
this year. As an ordained rabbi and highly trained
Hazzan
, Rabbi Moradi has been leading services and inspiring many communities
in Israel and the US. Below is a schedule of services. For a printable schedule, please click
HERE
.
Due to a variety of considerations, purchasing seats is required for attending any part of the High Holidays services. Members take advantage of special rates, and will receive a link to the "members" RSVP page by email. Non-members are invited to reserve their seats HERE.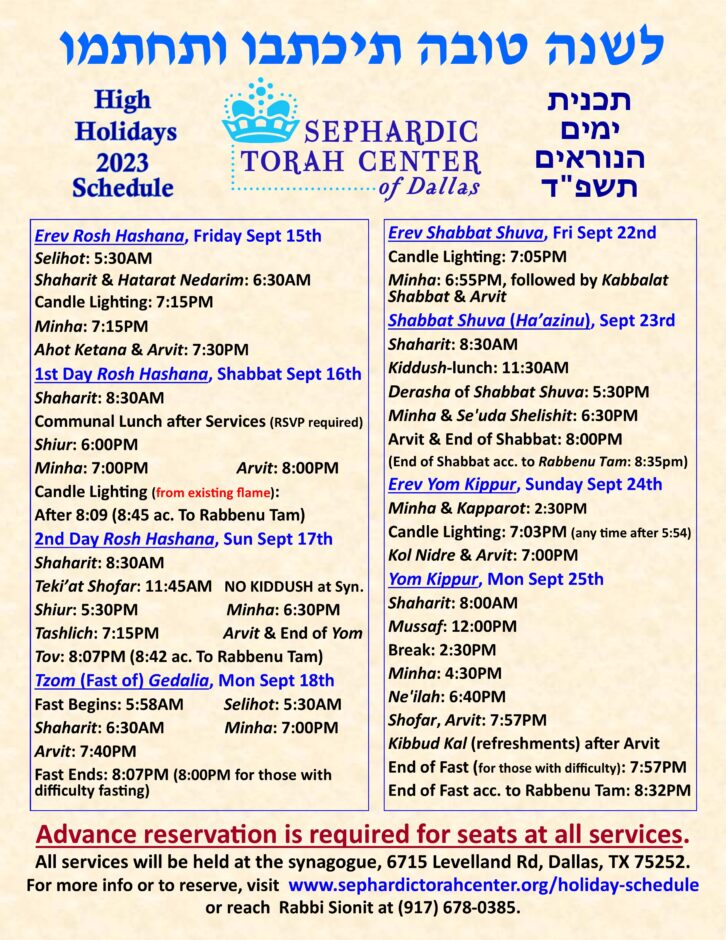 Time to Obtain or Renew You Membership!
Everyone is highly encouraged to obtain or renew synagogue membership. Among other benefits, members are entitled to discounts on High Holidays seats and year-round events. Please note the difference in the seat fees for members, associate members, and non-members in the table below. In addition to the benefits you can gain by becoming members, this is also a significant way you can help the synagogue keep up with its growing ongoing expenses. To take advantage of this opportunity, please click HERE.